RIBBED SAFETY PLUS CHEST WADERS FEATURES
The Dunlop Ribeed Safety Plus are the best PVC work boots available. They have a steel toe cap and midsole plate that comply with all PPE requirments. The boot and its steel components meet BS EN 345-1 as required for PPE legislation.
SAFETY CHEST WADERS £59.95
Available in sizes 4 -13
(inc P&P)
Add studding to these boots £10
RIBBED SAFETY PLUS CHEST
(click to enlarge images)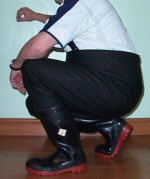 Available in sizes 4 - 13
ONLY £59.95
(inc P&P)
RRP £105.00
We are so confident of our workmanship we are happy to offer a one year guarantee against seam leakage.